Hubungan antara Kejadian Computer Vision Syndrome (CVS) dengan Kualitas Tidur Mahasiswa Keperawatan
Keywords:
College students, Computer Vision Syndrome  (CVS), sleep quality, digital devices
Abstract
Computer Vision Syndrome  (CVS) encompasses a constellation of ocular and extraocular symptoms in digital devices users who either habitually or compulsively use digital devices for long periods of time. Digital devices emit blue light (400-490 nm) and generate electromagnetic fields, both of which interfere with the circadian rhythms. This study aims to determine the association between CVS and sleep quality of nursing students. The type of research was observational analytics with a cross-sectional approach and conduct proportionate stratified random sampling. CVS was measured by using CVS-Q, while sleep quality was measured by using PSQI. The analysis used univariate analysis to see the frequency distribution and bivariate used Chi-Square. The result of the data analysis showed that 68,4% of the nursing students experienced CVS. The number of respondents who experienced poor sleep quality was 151 (63.7%). Poor sleep quality was present in 71% of individuals with CVS and 48% of students without CVS. The difference was statistically significant (p=0.001) with OR=2,651. CVS is significantly associated with sleep quality in nurse students. Therefore, it is necessary to apply appropriate behaviors and attitudes to use digital devices and prevent CVS from occurring so that the individual's sleep quality becomes better.
References
Abudawood, G. A., Ashi, H. M., & Almarzouki, N. K. (2020). Computer vision syndrome among undergraduate medical students in King Abdulaziz University, Jeddah, Saudi Arabia. Journal of Ophthalmology.
Akowuah, P. K., dkk. (2021). Digital Device Use, Computer Vision Syndrome, and Sleep Quality among an African Undergraduate Population. Advances in Public Health. https://doi.org/10.1155/2021/6611348.
Al Tawil, L., Aldokhayel, S., Zeitouni, L., Qadoumi, T., Hussein, S., & Ahamed, S. (2020). Prevalence of self-reported Computer Vision Syndrome symptoms dan its associated faktors among university students. European Journal of Ophthalmology, 30(1), 189–195. https://doi.org/10.1177/1120672118815110
Alemayehu M., Nega A., Tegegne E., & Mule Y. (2014). Prevalence of Self-Reported Computer Vision Syndrome and Associated Faktors among Secretaries and Data Processors Who are Working in University of Gondar, Ethiopia. Journal of Biology, Agriculture and Healthcare, 4(15), pp 33-37.
AOA. (2020). Computer Vision Syndrome (CVS). American Optometric Association. Retrieved 23 December, 2021, from
https://www.aoa.org/healthy-eyes/eye-and-vision-conditions/computer-vision-syndrome?sso=y.
Ayaki, M., Kawashima, M., Negishi, K., & Tsubota, K. (2015). High prevalence of sleep and mood disorders in dry eye patients: survey of 1,000 eye clinic visitors. Neuropsychiatric disease and treatment, 11, 889.
Bahkir, F.A., dan Grandee, S.S. (2020). Impact of the COVID-19 Lockdown on Digital Device-Related Ocular Health. Indian J. Ophthalmol., 68, 2378–2383.
Boadi-Kusi, S. B., Adueming, P. O. W., Hammond, F. A., & Antiri, E. O. (2022). Computer vision syndrome and its associated ergonomic factors among bank workers. International Journal of Occupational Safety and Ergonomics, 28(2), 1219-1226.
Brdan S dan Kirov R. (2011). Sleep dan its importance in adolescence dan in common adolescent somatic dan psychiatric conditions. Int J Gen Med. 4:425–42.
Cavdar E, Ozkaya A, Alkin Z, Ozkaya HM, Babayigit MA. (2014). Changes in tear film, corneal topography, and refractive status in premenopausal women during menstrual cycle. Cont Lens Anterior Eye, 37:209–212.
Dessie, A., Adane, F., Nega, A., Wami, S. D., & Chercos, D. H. (2018). Computer vision syndrome and associated factors among computer users in Debre Tabor Town, Northwest Ethiopia. Journal of environmental and public health, 8.
Facri, A., & Arminsih, R. (2021). Hubungan Faktor Individu, Lingkungan dan Komputer dengan Kejadian Computer Vision Syndrome (CVS) pada Staf Polres Metro Jakarta Pusat Tahun 2020. Jurnal Nasional Kesehatan Lingkungan Global, 2(3), 123-132.
Farah, N. M., Saw Yee, T., & Mohd Rasdi, H. F. (2019). Self-reported sleep quality using the Malay version of the Pittsburgh Sleep Quality Index (PSQI-M) in Malaysian adults. International journal of environmental research and public health, 16(23), 4750.
Frimpong, K. O. (2020). The Prevalence dan Knowledge of University Students on Computer Vision Syndrome (CVS). IOSR Journal of Computer Engineering, 22(1) P 31-41.
Gallego-Gómez, J. I., dkk. (2021). Relationship between sleep habits and academic performance in university Nursing students. BMC nursing, 20(1), 1-8.
Gupta, P. C., dkk. (2022). Association of screen time, quality of sleep and dry eye in college-going women of Northern India. Indian journal of ophthalmology, 70(1), 51-58.
Han, C.C., Liu, R., Liu, R.R., Zhu, Z.H., Yu, R.B., & Ma, L. Prevalence of Asthenopia and Its Risk Factors in Chinese College Students. (2013). Int. J. Ophthalmol, 6, 718–722.
Hennies, N., Ralph, M. A. L., Kempkes, M., Cousins, J. N., & Lewis, P. A. (2016). Sleep spindle density predicts the effect of prior knowledge on memory consolidation. Journal of Neuroscience, 36(13), 3799-3810.
Hershner SD, C. R. (2014). Causes dan consequences of sleepiness among college students. Nat Sci Sleep, 73-84.
Insani, Y., & Wunaini, N. (2018). Hubungan jarak mata dan intensitas pencahayaan terhadap computer vision syndrome. Jurnal Manajemen Kesehatan Yayasan RS. Dr. Soetomo, 4(2), 153-162.
Jumiarni. (2018). Perbandingan Kualitas Tidur Menggunakan Skala Pittsburgh Sleep Quality Index (Psqi) pada Pasien Gangguan Cemas yang Mendapat Terapi Benzodiazepin Jangka Panjang dan Jangka Pendek. Tesis, Makassar: Universitas Hasanuddin.
Karki K, Singh DR, Maharjan D, K. C. S, Shrestha S, Thapa DK. (2021). Internet addiction and sleep quality among adolescents in a peri-urban setting in Nepal: A cross-sectional school-based survey. PLoS ONE, 16(2): e0246940. https://doi.org/10.1371/journal.pone.0246940
Kline C. (2013). Sleep Quality. In: Gellman M. D., Turner J.R. (eds). Encyclopedia of Behavioral Medicine. Springer. https://doi.org/10.1007/978-1-4419-1005-9_849
Lemma S., Gelaye B., Berhane Y., Worku A., Williams M.A. (2012). Sleep quality and its psychological correlates among university students in Ethiopia: A cross-sectional study. BMC Psychiatry, 12:237. doi: 10.1186/1471-244X-12-237.
Li L., dkk. (2017). Sleep Duration and Sleep Patterns in Chinese University Students: A Comprehensive Meta-Analysis. J. Clin. Sleep Med. JCSM Off. Publ. Am. Acad. Sleep Med., 13:1153–1162. doi: 10.5664/jcsm.6760.
Magno, M.S., Utheim, T.P., Snieder, H., Hammond, C.J., Vehof, J. (2021). The Relationship Between Dry Eye and Sleep Quality. Ocul. Surf., 20, 13–19.
Matossian, C., McDonald, M., Donaldson, K. E., Nichols, K. K., MacIver, S., & Gupta, P. K. (2019). Dry eye disease: consideration for women's health. Journal of women's health, 28(4), 502-514.
Mei, X., Zhou, Q., Li, X., Jing, P., Wang, X., & Hu, Z. (2018). Sleep problems in excessive technology use among adolescent: a systemic review and meta-analysis. Sleep Science Practice, 2(9). https://doi.org/10.1186/s41606-018-0028-9
Moldovan HR, Voidazan ST, Moldovan G, Vlasiu MA, Moldovan G, Panaitescu R. (2020). Accommodative asthenopia among Romanian computer-using medical students- A neglected occupational disease. Arch Environ Occup Health, 75, pp 235-241. https://doi. org/10.1080/19338244.2019.1616666.
Mollayeva, T., Thurairajah, P., Burton, K., Mollayeva, S., Shapiro, C. M., & Colantonio, A. (2016). The Pittsburgh sleep quality index as a screening tool for sleep dysfunction in clinical and non-clinical samples: A systematic review and meta-analysis. Sleep medicine reviews, 25, 52-73.
Mowatt L, Gordon C, Santosh AB, Jones T. (2018). Computer vision syndrome and ergonomic practices among undergraduate university students. Int J Clin Pract., 72:13035.
Patil, A., Bhavya, Chaudhury, S., & Srivastava, S. (2019). Eyeing Computer Vision Syndrome: Awareness, knowledge, dan its impact on sleep quality among medical students. Industrial Psychiatry Journal, 28(1), 68.
Pattanaik A, Priyadarshini A, Vaidya S, Pattanaik N. (2019). Assessment of Sleep Quality Among Women of Childbearing Age by Pittsburgh Sleep Quality Index. Indian Sleep Med, 14(1):7-9.
Pavithra, S., & Dheepak, S. M. (2020). Assessment of dry eye symptoms and quality of sleep in engineering students during the COVID-19 pandemic. International Journal of Research in Pharmaceutical Sciences, 1202-1207.
Ranasinghe P., dkk. (2016). Computer Vision Syndrome among computer office workers in a developing country: An evaluation of prevalence dan risk faktors. BMC Res Notes, 150-8.
Reddy SC, Low CK, Lim YP, Low LL, Mardina F, Nursaleha MP. (2013). Computer Vision Syndrome: A study of knowledge dan practices in university students. Nepal J Ophtalmol., 5(10):161-8.
Seguí MdM, Cabrero-García J, Crespo A, Verdú J, Ronda E. (2015). A reliable and valid questionnaire was developed to measure Computer Vision Syndrome at the workplace. Journal of Clinical Epidemiology, 68(6):662-73. doi: 10.1016/j.jclinepi.2015.01.015.
Shantakumari, Eldeeb, Sreedharan, & Gopal. (2014). Computer use dan vision-related problems among university students in Ajman, United Arab Emirate. Ann Med Health Sci Res, 4(2):258-26.
Sullivan, D.A., dkk. (2017). TFOS DEWS II Sex, Gender, and Hormones Report. Ocul. Surf., 15, 284–333.
Theresa, Cindy Calista. (2021). Hubungan Computer Vision Syndrome dengan Kualitas Tidur Mahasiswa Fakultas Kedokteran Universitas Sumatera Utara Angkatan 2017. Skripsi, Fakultas Kedokteran. Medan: Universitas Sumatera Utara.
Valentina D.C.D., Yusran M., Wahyudo R., & Himayani R. (2020). Faktor Risiko Computer Vision Syndrome pada Mahasiswa Jurusan Ilmu Komputer Fakultas Matematika dan Ilmu Pengetahuan Alam Universitas Lampung. JIMKI: JIMKI: Jurnal Ilmiah Mahasiswa Kedokteran Indonesia, 7(2), 29-37.
Wangsan, K., dkk. (2022). Self-Reported Computer Vision Syndrome among Thai University Students in Virtual Classrooms during the COVID-19 Pandemic: Prevalence and Associated Factors. International Journal of Environmental Research and Public Health, 19(7), 3996. http://dx.doi.org/10.3390/ijerph19073996.
Yazdi Z., Loukzadeh Z., Moghaddam P., & Jalilolghadr S. (2016). Sleep Hygiene Practices and Their Relation to Sleep Quality in Medical Students of Qazvin University of Medical Sciences. J. Caring Sci., 5:153–160. doi: 10.15171/jcs.2016.016.
Yilmaz, D., Tanrikulu, F., & Dikmen, Y. (2017). Research on sleep quality and the factors affecting the sleep quality of the nursing students. Current health sciences journal, 43(1), 20.
Zeleke A, Adane F, Ahmed A, Wami S, Chercos D. (2018). Computer Vision Syndrome and associated factors among computer users in Debre Tabor Town, Northwest Ethiopia. J Environmental and Public Health, 1–8.
Zenbaba, D., Sahiledengle, B., Bonsa, M., Tekalegn, Y., Azanaw, J., & Kumar Chattu, V. (2021). Prevalence of Computer Vision Syndrome dan Associated Faktors among Instructors in Ethiopian Universities: A Web-Based Cross-Sectional Study. Scientific World Journal.
Zhong, Q. Y., Gelaye, B., Sánchez, S. E., & Williams, M. A. (2015). Psychometric properties of the Pittsburgh Sleep Quality Index (PSQI) in a cohort of Peruvian pregnant women. Journal of Clinical Sleep Medicine, 11(8), 869-877.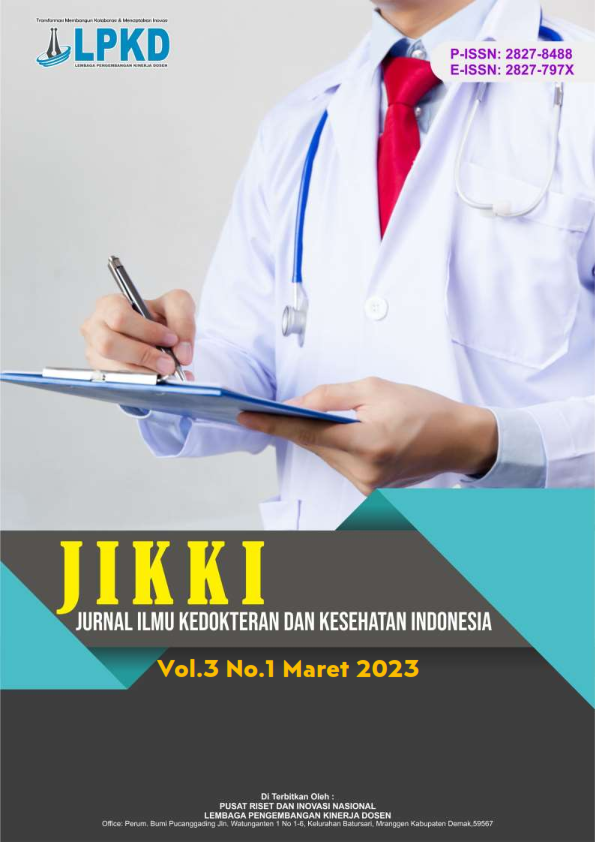 Downloads
How to Cite
Dinda Bucira Almaa, Yulia Rizka, & Nopriadi, N. (2023). Hubungan antara Kejadian Computer Vision Syndrome (CVS) dengan Kualitas Tidur Mahasiswa Keperawatan. Jurnal Ilmu Kedokteran Dan Kesehatan Indonesia, 3(1), 01–12. https://doi.org/10.55606/jikki.v2i2.861