Sosialisasi Retribusi Pasar pada Pasar Ikan Lamongan
Keywords:
Government, Fish market, Retribution, Socialization, Trader
Abstract
In the implementation of regional development, the active role of the community in regional planning institutions needs to be increased and coordinated with each other in order to achieve faster and more targeted development. The regional autonomy implemented aims to assist the implementation of the central government, especially in providing services to the community and implementing development programs so that there is a need for efforts to increase regional income from local revenue (PAD). One of the financial sources obtained comes from retribution. Awareness of the obligation to charge fees is often related to willingness and compliance in exercising the rights and obligations of fees in accordance with applicable regulations, especially regarding community knowledge, level of education, and the applicable system. Lamongan Regency is one of the areas with abundant resources in the form of fishery products. The Lamongan Fish Market is a form of government service to business actors in carrying out fishery product transactions. Thus, socialization regarding fees at the Lamongan Fish Market needs to be carried out in order to create awareness of mandatory fees for the sake of development progress in Lamongan Regency.
References
Ara, U. H., & Pekujawang, J. (2012). Potensi Retribusi Pasar Di Kabupaten Sumba Timur. JURNAL TRANSFORMATIF UNKRISWINA SUMBA, 2(1), 76–89. https://ojs.unkriswina.ac.id/index.php/transformatif/article/view/106
Sarijan, S., Sjarlis, S., & Kitta, S. (2022). PENGARUH KUALITAS PELAYANAN, PENGAWASAN DAN KESADARAN WAJIB RETRIBUSI TERHADAP PENERIMAAN RETRIBUSI PASAR PADA UPTD PASAR KOTA PAREPARE. The Manusagre Journal, 1(1), 148–160. https://e-jurnal.nobel.ac.id/index.php/tmj/article/view/3266
Shintia, N., Pengajar, S., Bisnis, A., Negeri, P., Ringkasan, B., Kunci, K., Pasar, R., & Daerah, P. A. (2011). PELAKSANAAN RETRIBUSI PASAR DALAM MENINGKATKAN PENDAPATAN ASLI DAERAH (STUDI KASUS PADA PASAR KURIPAN BARU KOTA BANJARMASIN KECAMATAN BANJARMASIN TIMUR). Jurnal INTEKNA : Informasi Teknik Dan Niaga, 11(1). https://ejurnal.poliban.ac.id/index.php/intekna/article/view/60
Suhardan, S. (2021). Analisis Pelaksanaan Retribusi Dalam Rangka Peningkatan Pendapatan Asli Daerah Kabupaten Muara Enim. Media STIE Prabumulih, 5(2), 84–94. http://jurnal.stieprabumulih.ac.id/index.php/stie/article/view/38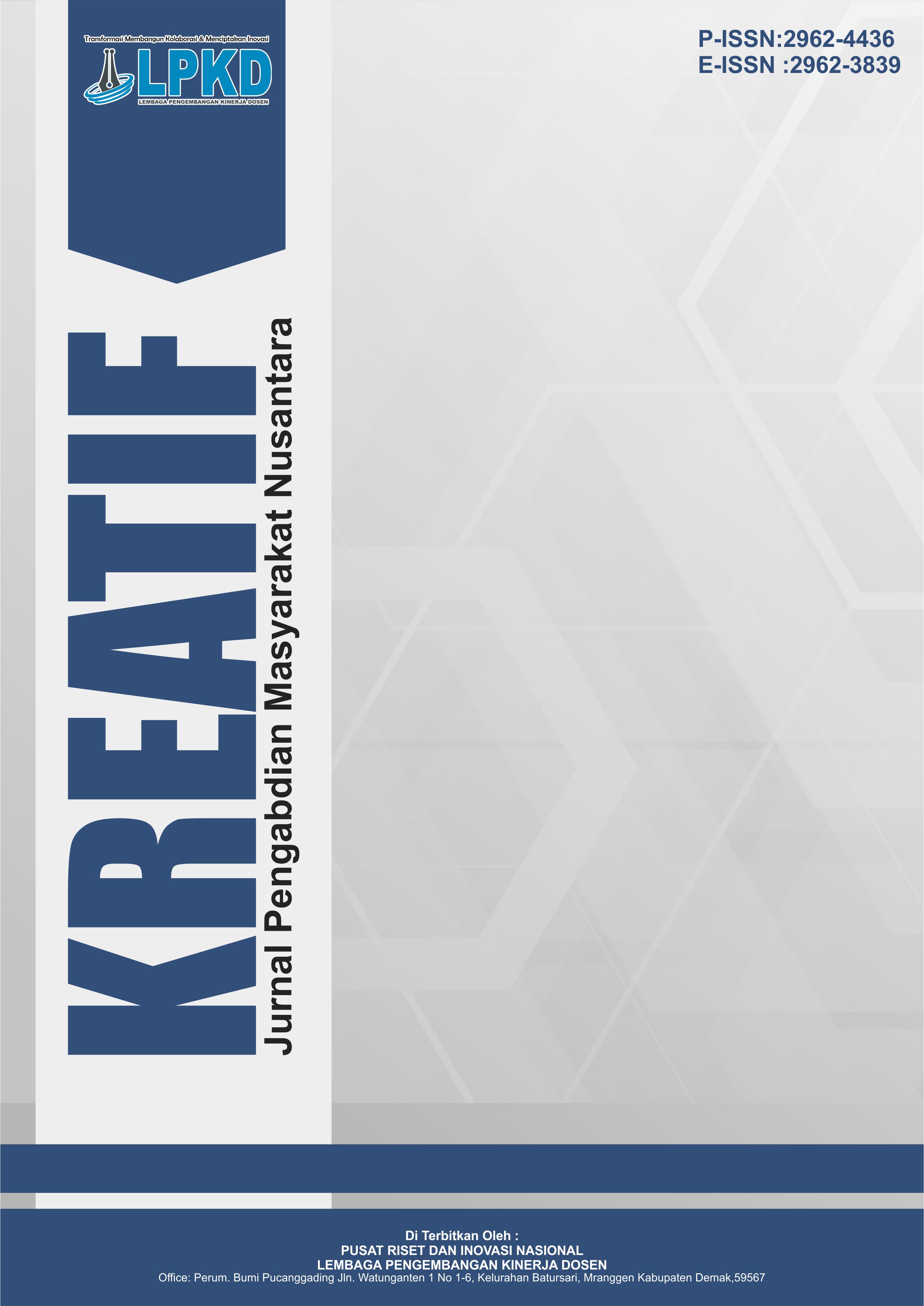 Downloads
How to Cite
Tri Winarsih, Rina Sulistyowati, & Ida Fitriyah. (2021). Sosialisasi Retribusi Pasar pada Pasar Ikan Lamongan. KREATIF: Jurnal Pengabdian Masyarakat Nusantara, 1(1), 18–23. https://doi.org/10.55606/kreatif.v1i1.1830
License
Copyright (c) 2022 Tri Winarsih, Rina Sulistyowati, Ida Fitriyah
This work is licensed under a Creative Commons Attribution-ShareAlike 4.0 International License.